About the Sock Monkey Lady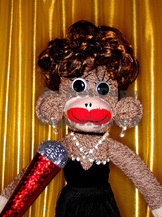 Award-winning photographer, Dee Lindner, known as the "Sock Monkey Lady," shares a passion with millions of others for America's celebrated red-heel sock monkeys. A sock monkey enthusiast, crafter, and collector, she aspires to capture the spirit of the sock monkey for all to enjoy through her camera lens, in her writing, and in her sock monkey novelty items. The Sock Monkey Lady's creations are meant to bring luck and goodwill to everyone year round. Your smile is a symbol of her success!

---
About the Sock Monkey Lady's Products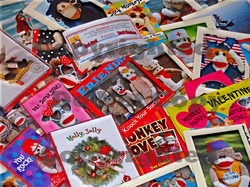 Sock monkey enthusiasts enjoy the Sock Monkey Lady's widely acclaimed and popular humor-filled sock monkey photography. Her published gift books "Monkey Love," "Friends Knock Your Socks Off," and "Sew Cute and Collectible Sock Monkeys," in addition to a line of sock monkey novelty items such as Sock Monkey Greeting Cards, coloring books, checkbooks, bookmarks, valentine fun packs, mini-journals, boxed holiday cards, note cards, gift enclosure cards, and more, have been adorned with her sentimental sock monkey images.

Her sock monkey-themed creations are funny, cute, charming, and brimming with attitude and the perfect daily pick-me-up for anyone who needs a gentle dose of humor and kindness.

---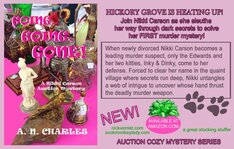 Going, Going, Gone!
by A.N. Charles

If you like cozy mysteries, this is a favorite fun read with a sock monkey moment! A "whodunit" murder mixed with light romance equals a great page turner. Available through Amazon (link below).

---
---
About Licensing the Sock Monkey Lady's Images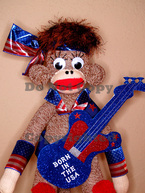 The Sock Monkey Lady aspires to share the pleasure making sock monkey creations brings to her with others. Her products are available for shipment worldwide. Hundreds of her unique action-oriented sock monkey images expand over every day, special occasions, and themes, including all seasons. They have adorned products available on the Internet, bookstores, galleries, gift shops, medical centers, museums, coffee shops, and restaurants. Licensing, publishing, and writing inquiries about her work are welcome. Queries can be submitted via the electronic contact form.

---
A few samples of Sock Monkey Images From the Sock Monkey Lady's Portfolio of Fun-filled Images Cover Every Day, Special Occasion, Themes, and All Seasons.